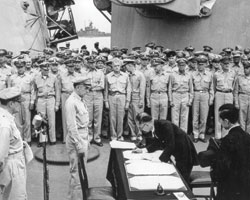 On September 2, 1945, in Tokyo Bay aboard the USS Missouri, representatives of the Allied and Axis powers met in solemn ceremony to "conclude an agreement by which peace can be restored". Following General Douglas MacArthur's introductory speech, representatives of the Empire of Japan were directed to step forward and sign the two copies of the Instrument of Surrender. General MacArthur then signed on behalf of all the Allied powers followed by representatives of Allied nations in attendance. General MacArthur concluded the ceremony by saying: "Let us pray that peace be now restored to the world, and that God will preserve it always. These proceeding are closed!" With those words, World War II was over.
For those of our Greatest Generation, the significance of that moment coming after years of devastation and death could never be diminished or forgotten. It remains for us now to know and understand, to appreciate their service and sacrifice, and to always remember.
Japanese Foreign Minister Mamoru Shigemitsu (middle right) signs the two copies of the Instrument of Surrender on behalf of the Emperor and the government of Japan while General Douglas MacArthur (middle left), his Chief of Staff, General Sutherland (far left), and Foreign Ministry Aide Toshikazu Kase witnesses the historic event (far right).