On 25 June 1950, North Korean forces invaded South Korea.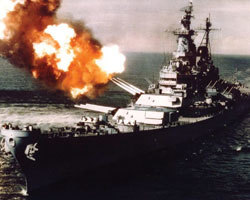 By mid-September USS Missouri was underway off the coast of Korea, armed and ready to support U.N. forces in the "Police Action" that would become known as the Korean War.
Missouri conducted shore bombardment operations in a diversionary move coordinated with the Inchon landings.
Missouri arrived off Inchon on 19 September 1950 and by mid-October was conducting shore bombardment missions along the coast.
By December 23, Missouri had arrived off Hungnam to provide gunfire support for UN forces ashore. She remained on station until the last U.N. troops were evacuated on Christmas Eve, 1950.
Missouri continued shore bombardments off the east coast of Korea until late March 1951 when she was relieved of duty in the Korean Combat Zone.
Missouri returned for her second tour of duty in Korea in late October, 1952 continuing gunfire support for UN forces ashore with shore bombardments of enemy targets until January 1953. After resupply in Japan, Missouri resumed "Cobra" patrol with shore bombardment of enemy supply routes along the eastern coast.
Missouri successfully completed her last bombardment mission on 25 March 1953 and returned to Sasebo, Japan. Tragically, her commanding officer, Captain Warner R. Edsall, suffered a fatal heart attack as Missouri arrived safely in port at Sasebo.