Recognizing The Thousands Of Volunteers Who Donated Their Time To The Mighty Mo In 2019
Battleship Missouri Memorial honors exceptional service with annual Volunteer Awards
Pearl Harbor, HI – (February 12, 2020) –In 2019, over 2,845 volunteers selflessly dedicated their time and energy aboard the Battleship Missouri Memorial. The 2,845 volunteers collectively served 13,125 hours, equating to more than $328,125 in savings to the Mighty Mo over the year.
The USS Missouri Memorial Association hosted a Volunteer Appreciation Day to show the organization's gratitude for each volunteer's invaluable contributions in preserving the historic battleship. Six individuals and four organizations were recognized and honored during the event.
"Without the endless support of our incredible volunteers, the Battleship Missouri Memorial would not be what it is today," said Michael Carr, President and CEO of the USS Missouri Memorial Association. "Our Volunteer Appreciation Day celebrates the thousands of volunteers for their countless hours they have donated to helping us share and maintain the battleship's place in history every day."
The following is a complete list of awards and recipients recognized on Volunteer Appreciation Day:
USS Missouri Memorial Award
Outstanding Volunteer of the Year 2019
David Kinney
USS Missouri Legacy Award 2019
Outstanding Military Support
MMN1(SS) Colt Dellinger
Truman Centennial Award
Outstanding Senior Volunteer 2019
Paul Thomas
Big Guns Award 2019
Volunteer Jack of All Trades
Wayne Ohashi
Outstanding Adopt-A-Space 2019
Executive Transport Detachment
Outstanding Military Group Support 2019
US COAST GUARD
Port Engineering

Outstanding Military Group Support 2019
US COMMANDER PACIFIC FLEET
Outstanding Group Support 2019
Kiwanis Key Club
Kay Tokunaga
Outstanding Volunteer Group 2019
Church of Jesus Christ of Latter Day Saints
Outstanding Volunteer Tour Guide 2019
Karl Will

About the Battleship Missouri Memorial
Since opening in January 1999, the Battleship Missouri Memorial has attracted more than 9-million visitors from around the world with a fascinating tour experience showcasing the USS Missouri's unique place in history. Located a mere ship's length from the USS Arizona Memorial, the Mighty Mo completes a historical visitor experience that begins with the "day of infamy" and sinking of the USS Arizona in Pearl Harbor on December 7, 1941 and ends with Japan's formal surrender aboard the USS Missouri in Tokyo Bay on September 2, 1945.
The USS Missouri had an astounding career over five decades and three wars – World War II, the Korean War, and Desert Storm – after which it was decommissioned and donated to the USS Missouri Memorial Association, Inc., a 501(c)(3) non-profit organization. The Association operates the Battleship Missouri Memorial as a historic attraction and oversees her care and preservation with the support of visitors, memberships, grants, and donations.
The Battleship Missouri Memorial is open daily from 8:00 a.m. to 4:00 p.m. General admission, which includes choice of an optional tour, is $29.99 per adult and $13.99 per child (4-12). Military, kama'aina (local resident) and school group pricing is available. For information or reservations, call (toll-free) 1-877-644-4896 or visit USSMissouri.org
# # #
Please credit images to the Battleship Missouri Memorial
Link to Image: https://imgur.com/a/XOE9o35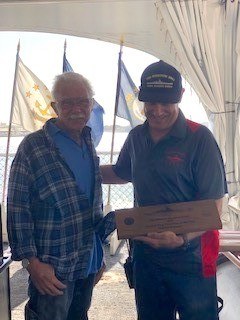 Caption: David Kinney presented with the Outstanding Volunteer of the Year 2019 award
Link to Image: https://imgur.com/a/X6qmwkE
Caption: The US Coast Guard accepting the Outstanding Military Group Support 2019 award
Link to Image: https://imgur.com/a/Nx7pYbH
Caption: Outstanding Military Group Support 2019 award presented to the US Commander Pacific Fleet

Link to Image: https://imgur.com/a/mWbWFkl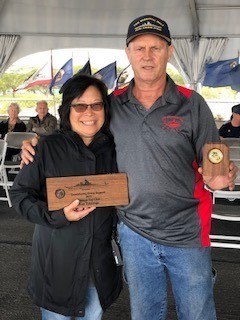 Caption: Kay Tokunaga accepts the Outstanding Group Support 2019 award on behalf of the Kiwanis Key Club

Link to Image: https://imgur.com/a/1qSHFWt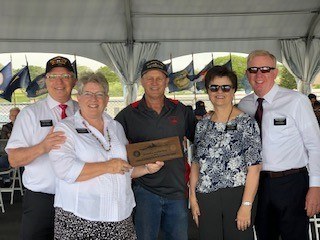 Caption: Representatives of the Church of Jesus Christ of Latter Day Saints accept the Outstanding Volunteer Group 2019 award

Media Contact:
Shere'e Quitevis
(808) 539- 3434
Sheree.Quitevis@AnthologyGroup.com
Jaclyn Hawse
(808) 455-1600 ext.246
JaclynH@ussmissouri.org