We Remember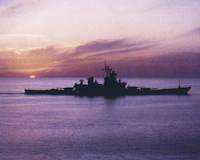 After completion of Operation Desert Storm, the USS Missouri paused briefly in Australia and Hawaii en route home to Long Beach Naval Station. There her officers and crew received a hero's welcome by thousands of friends and family.
But the USS Missouri had one final mission to complete.
On December 7, 1991, the Missouri returned to the historic waters of Pearl Harbor for the 50th anniversary commemoration of the attack on the Hawaiian Islands. Moored a short distance from the USS Arizona Memorial, the Missouri and Arizona provide a symbolic connection from the "day which will live in infamy" to the formal ending of World War II.
Her final mission complete, the officers and crew of the Missouri now prepared for the difficult task of retiring the historic battleship. On March 31, 1992, the Missouri was decommissioned for the final time; the last active service battleship in the world, her departing officers and crew the last battleship sailors.
Though her active naval service is complete, her legacy is not forgotten. On January 29, 1999, after years of dedicated community effort, the Battleship Missouri returned to service as centerpiece of the Battleship Missouri Memorial in Pearl Harbor.
Read the Final Plan of the Day.