EXPANDING OUR HORIZONS - THE CAPITAL CAMPAIGN FOR THE MIGHTY MO
The USS Missouri Memorial Association is inspired by a vision to present the Battleship Missouri Memorial as the finest historic ship attraction in the world. This endeavor includes a Pier Master Plan for renovation and development of comprehensive improvements to the ship's pier.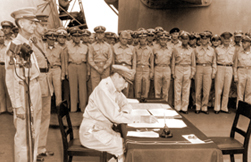 In addition, September 2, 2020 marks the 75th Anniversary of the End of World War II. In collaboration with veteran's groups, U.S. government entities, and global neighbors, the Mighty Mo will pay tribute to those who served our country with a series of commemorative events beginning in 2019. It is our privilege to invite all veterans and their families, guests from around the world, and our local community to visit the Battleship Missouri Memorial and take part in these events.
The Expanding our Horizons Campaign seeks to raise $5 million to renovate the newly acquired building #468 and underwrite expenses associated with the commemoration of the 75th Anniversary of the End of World War II. Building #468, currently vacant, will be transformed into a new Artifact Preservation and Administration Center that will include the following features:
Entrance Upgrade: The renovation of the visitor's facility will be complemented by a new visitor shuttle drop-off and pick-up area along with visitor restroom facilities.
Enhanced Artifact Storage: This improvement will provide museum-standard storage for historical documents and wartime artifacts along with a new library and research center.
Consolidated Office Space: Offices for Sales, Marketing, Finance Departments, and a staff accommodation area will move to the new Administration Center.
We invite you to participate in our Expanding our Horizons Capital Campaign and become a part of the history and legacy of the Battleship Missouri Memorial.
There are multiple ways to donate in support of the USS Missouri Memorial Expanding our Horizons Capital Campaign:
To make a secure online donation click here.
You can make your gift by phone with a credit or debit card by calling 808.455.1600 (x. 253).

You can send your donation by mail to:
USS Missouri Memorial Association
Attn: Expanding Our Horizons Capital Campaign
63 Cowpens Street
Honolulu, HI 96818
Thank you for your investment in the future success of the Mighty Mo!
Guided by our strategic mission of preservation and restoration, education, and community outreach, along with the fair winds of your support, it is with full confidence we set sail into a promising future.